Jeans are our day to day life clothes. They are one of those must-have wardrobe clothing that goes with every environment you can think of.
Jeans are men's best friend as they are super classy, easy to wear and never loses its touch.
We know how you love your jeans, that's why we've put together this style guide to show you how you rock trendy fashion styles with jeans?
Curious?
Keep reading!
Casual Summer Outfits With Jeans: What Style Should I Follow?
With the increasing popularity of jeans, there's a wide range of variations to choose from. That's why finding the perfect pair is always hard.
To find out what suits your style best start with their different fits and cuts. Every cut is perfect for a body type. Let's see what they are.
Different Types of Skinny Summer Jeans

Slim Leg Summer Jeans

Slim leg jeans offer a great deal of versatility. Men with heavier thighs will get a flattering look like this cut tones down the silhouette of the legs. Slim legs should be worn as fitted as possible. We're not saying to buy a super tight fit, but one that goes perfectly with your legs.

You should always try it out before buying. After using a few times the fabric will get stretched out and you'll feel more comfortable.

Skinny Fit Summer Jeans

Skinny fit jeans are narrowly cut and have a close-fitting with lots of stretches. These jeans are best for men with heights and slim legs. Although it's close-fitting, you should never wear it fully skin tight.

Let's go with the rock star look here and tone it down a bit.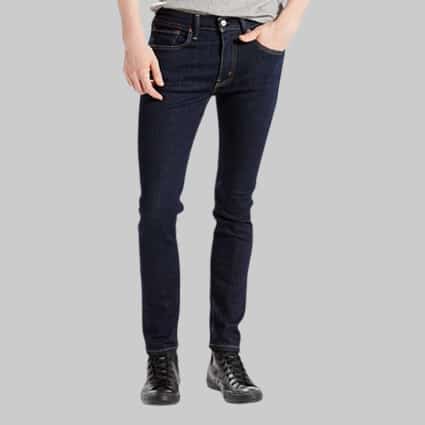 These are the typical traditional denim jeans, one of the best classical casual summer outfits. Also known as regular fit jeans, they are overall a straight cut starting from the hips to the legs. There's very little or no narrowing at all.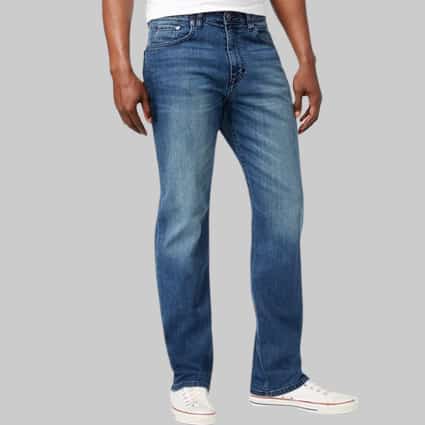 A pair of these jeans maintains a strict ratio to resolve any bagginess issue of this wonderful casual wear.

Tapered jeans are in the middle zone of a straight leg and slim leg jeans. These don't have that slimming tone of slim legs jeans, neither do they have the looseness of straight legs jeans. We'd recommend you to go for a slight taper cut.
This is slightly fitting, basically in the upper area such as calves and thighs. More in shape than the straight one and less fitting than the skinny one. These jeans create a footballer type aesthetic, giving you the comfort you need.

Different Summer Outfits with Jeans
You can try out various summer outfits with jeans. Anything looks cool on jeans, all you have to do is pick the right style for you. Check out a few of our summer outfits ideas to get the inspiration you need!
There can't be any outfit for casual than this one. It's one of the most popular casual summer outfits with jeans. The design is simple, just wear a light-colored t-shirt with dark blue jeans. You can go with light ones too, but in that case, wear a dark-colored t-shirt.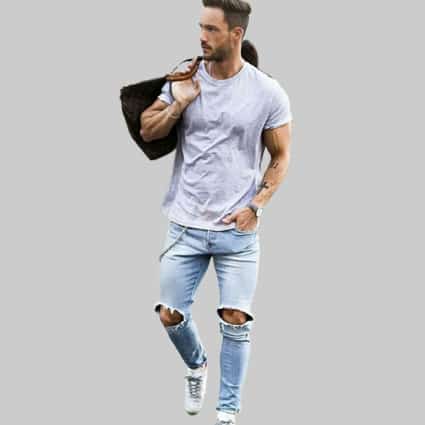 This combination is one of the best ones. You can go with any type of jeans here, all you have to do is contrast your t-shirt according to that. However, lightly shaded jeans with a light shaded t-shirt is a cool combo too!
Love wearing shirts during the summer days? Why don't you wear your jeans with it? It's a perfect casual outfit to wear in a social gathering. Just wear any dark-colored shirt with your light-colored jeans.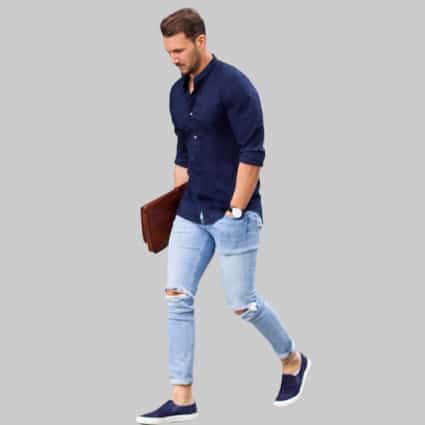 You can also add a different touch of fashion with ripped jeans. But, don't go overboard with it. A simple rip in the knee is enough.

One of the coolest summer outfit ideas. This combo is exceptionally an option for you to try out during the summer nights. As it has two layers, wearing it during the daytime can cause discomfort.

To rock this style you'll need to wear a light-colored t-shirt and a denim jacket over it. You can go for slim leg jeans to add a different taste to your fashion.

Checkered Shirts and Jeans
This one is a laid-back outfit for men. This adds a nice relaxing touch and gives you more of a country look. Just wear a checkered shirt on top of your t-shirt and a straight leg or tapered jeans.
Remember to go for a bigger pattern for the checkered shirts.
Summer Outfits Ideas: Summer Denim Shorts
Another casual style is denim or jean shorts. Nowadays, denim shorts are gaining massive popularity in the fashion industry. Well, what's not to like about them?
They look cool and surprisingly comfortable to wear during summer. They also offer a wide range here too! So, you'll get many options to tweak around in your style. Let's dive into a deep to figure out what suits you best.
How to Wear Them
Shorts are made to be comfortable to wear, always giving you freedom in your movement and helping you stay cool in the scorching heat. In this regard, denim is somewhat a bit less comfortable compared to other fabrics such as cotton.

Nevertheless, they also come with a stretcher and they are more fitted than other types of shorts. Like any other pair, you should go for a shaped one, which fits perfectly, but still has some room for movement.

Taller men should go for a longer length to get a better output. Shorter men will get the best output if they go with a short pair, but not too short.
Whatever denim shorts you go for, just remember to wear an appropriate style.
Having a wide range of color schemes, you'll have a lot of fun wearing these babies. We'd recommend you to go with neutral colors such as blue, grey, black, or even khaki. Usually, light blue shorts are most popular now and it looks good for every occasion.

Whatever you choose to wear on top, you need to balance it out to make sure the colors go with each other.

Although it's summer, so you shouldn't be afraid to add up more color to your outfits.
Different Type of Denim Shorts
Well, sometimes you should just stick to the basics and a pair of blue shorts are the perfect way to go here. Add up a different layer of texture to your summer outfit and go for a lighter shade. Although they go with almost anything but pair it up with a white t-shirt to complete the look.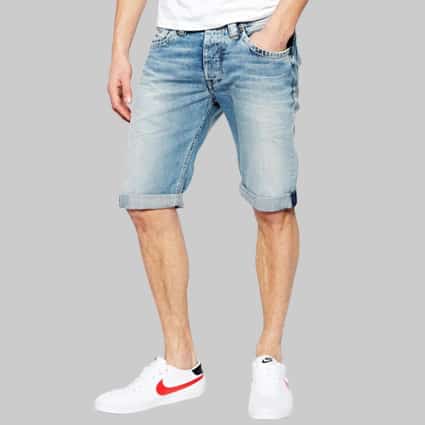 Black denim shorts offer a cooler look in your everyday style. But they also provide a clean-cut texture compared to the blue ones. These shorts are best for the simple-minded, sticking to one color style experts among us.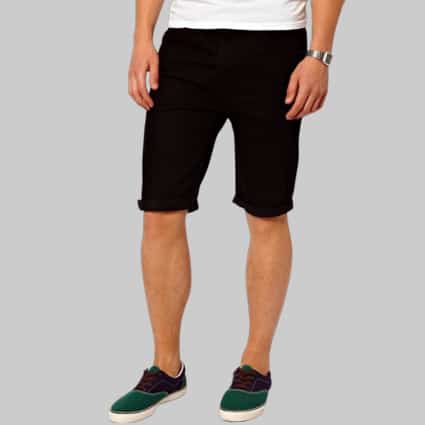 Use a white t-shirt here to look the part. That being said, colored t-shirts wouldn't look weird either; black goes with almost everything.
Grey shorts are in the middle zone of the black shorts and blue shorts. Grey ones look absolutely stunning during the summertime, as they add a different vide to the summer jeans men. If you want to move on from the old blue color, then try out this grey one.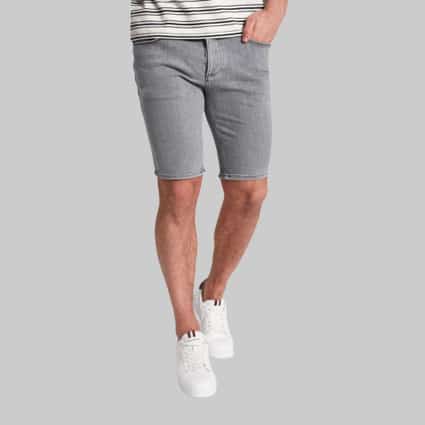 Unlike other shorts, pair it up with a black t-shirt.

Summer Jeans Mens: Styles with Denim Shorts
These are an awesome addition to any man's wardrobe. Moreover, these will go with any kind of top wear. Keeping it on the simple side would be the best choice here.
It's a casual look, so make it seem more casual with simple t-shirt styles. Go with the basic t-shirt color, white.
You should also try out the latest patterned trend. Different patterned and floral t-shirts are swooping in and killing the casual look this summer. So, why wouldn't you do it too?

Solid colors and stripes are also a great option this summer. Have a monochrome look by contrasting your shorts with your t-shirt. Use a light-colored t-shirt, and dark-colored shorts, or vise Versa.
Shirts also look great with shorts. Wear a pair of denim shorts along with your shirt, and you're done for any social gathering like a BBQ party. You can also use an undone shirt with a plain t-shirt to have a casual look.
Feeling a bit chilly in summer? Why don't you put on a coach jacket or bomber jacket? These are the perfect outfit you can wear with your shorts if it's a bit chilly out.
Lastly
Jeans are a lifesaver when it comes to casual summer outfits. You can pull off so many styles with it. Just make sure to stick to our guide and follow certain rules and you will rock the style everywhere you go.