Do you think that fashion is only for women? That's not right at all. There is a whole fashion world only for men. Men's fashion is not limited to shirts and jeans only. You can have fashionable jackets also.
Your fashion and style cannot be limited to seasons. You can maintain your style throughout the whole year in any season. Just the category changes with the season. The most attractive fashion for winter and spring is the bomber or flight jacket.
A bomber or flight jacket is one of the most fashionable jackets for boys. Do you want to know what actually the bomber is? Do you want the best and most fashionable men's bomber jacket? Don't worry. Just give this guide a try and choose the best bomber jackets for men as you wish.
What is a Bomber Jacket?
Bomber jacket, or also called flight jacket was mainly made for military personnel purposes. It was first created in the first half of the 20th century. The bomber was basically made for the military personnel and pilots to keep them warm in the cold temperature.
But today, the bomber has become a fashion wardrobe for men. Since the very beginning, it has been fashionable. Today, different types of bomber jackets for men will attract you at a glance. Sheepskin, leather, or fabric was primarily used to make these jackets.
It has either buttons or a zipper to close it. Its cuffs and waistband are elasticized. Its collar will protect your throat from the cold. You can also flip up the collar while wearing it.
Different Basic Models of Bomber or flight Jackets
From the very beginning, a number of designs and models of men's bomber jackets were made. You will find a lot of options to choose the best for you. The basic models are called the A-type and B-type models.
Model A-type jackets were made of wool, leather, silk, or cotton. On the other hand, the main material for type-B was sheepskin. Here are some of the best basic models of bomber jackets for men.
The model type A-1 was the first-ever bomber jacket for men. It was first created between 1927 and 1931. It was the first men's bomber jacket the cuffs and waistband were knitted with wool. This feature made this jacket perfect to stay warm in the cold.
This type A-1 jacket also came with a heavy cotton lining and two flapped cargo pockets. It had an exterior with capeskin which is a kind of sheepskin. For fastening, it is provided with horn buttons.
Model type A-2 was the successor of the previous model type A-1. In 1931, the US Army Air Forces launched the design of this model for the first time. Instead of silk line and capeskin, they use horsehide leather to make this type of jacket.
It will amaze you that behind the manufacturing process of this type A-2 model, there were a lot of manufacturers and designers. Such a jacket was made of numerous different materials. After a lot of design alterations, they were finally successful to create the type A-2 jackets.
It was able to protect better from the cold as its collar could be closed entirely. Goat leather and cotton linings were also used as their materials.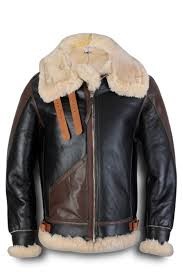 The model type B-3 jacket was created in the early 1930s. The main feature of this model type was its collar with two leather straps. The collar was made of sheepskin. One could fasten the collar tightly using the leather straps around his neck.
The type B-6 model of the men's bomber jacket was the less bulky version of a previous sheepskin one. It comes with some new features such as a single leather throat latch, angled slash pockets, and a slimmer cut. It was stylish and comfortable.
The replacement of the model type A-2 and the type B-6 came in the year 1943. As their replacement, the model type B-10 was introduced. Its manufacturer's main purpose was to make a more adaptable and less bulky jacket lightweight.
An alpha lining and a fabric shell were used to make this model type. It was the first flight jacket made with such materials.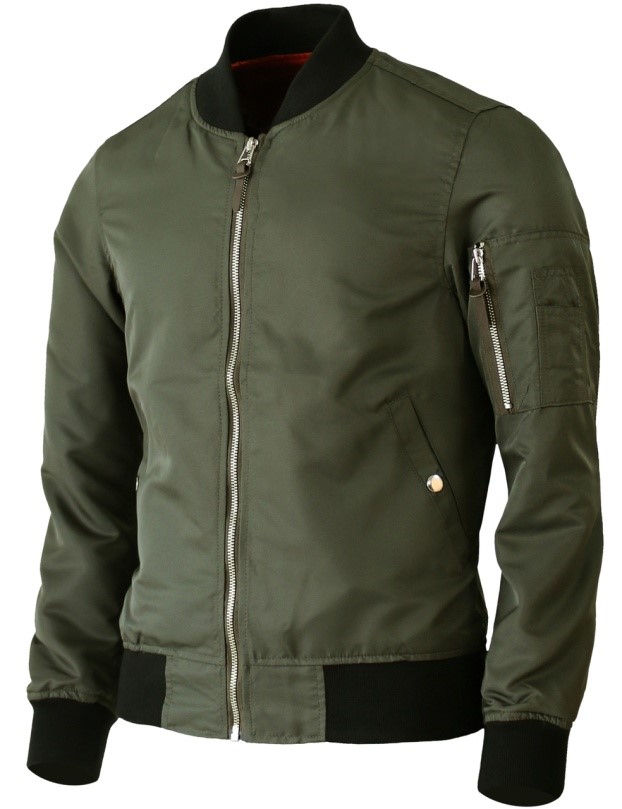 In 1958, the model type MA-1 was first introduced as bomber jackets for men. At first, it was made of midnight blue color. Soon after, its manufacturers replaced it with a sage green color.
The type MA-1 model came with an elasticized collar, cuffs, and waistband as well. There were also small slash pockets on it. It provided more comfort, safety, and better performance than its predecessor.
The type MA-1 model of the men's bomber jacket has an advanced version which is the type MA-2 model. It was originally introduced during the year 1950 for the first time. It was also called CWU(Cold Weather Uniform )-45 flight jacket.
Instead of the elasticized collar, it came with a fold-down collar. Onto the front of the MA-2 men's bomber jacket, the large cargo pockets replaced the small slash pockets of the MA-1. Its sleeves allowed easier movement than its previous version.
Nomex, a flame-resistant fabric was its main material. They were the first popular bomber or flight jackets as a modern fashion for boys.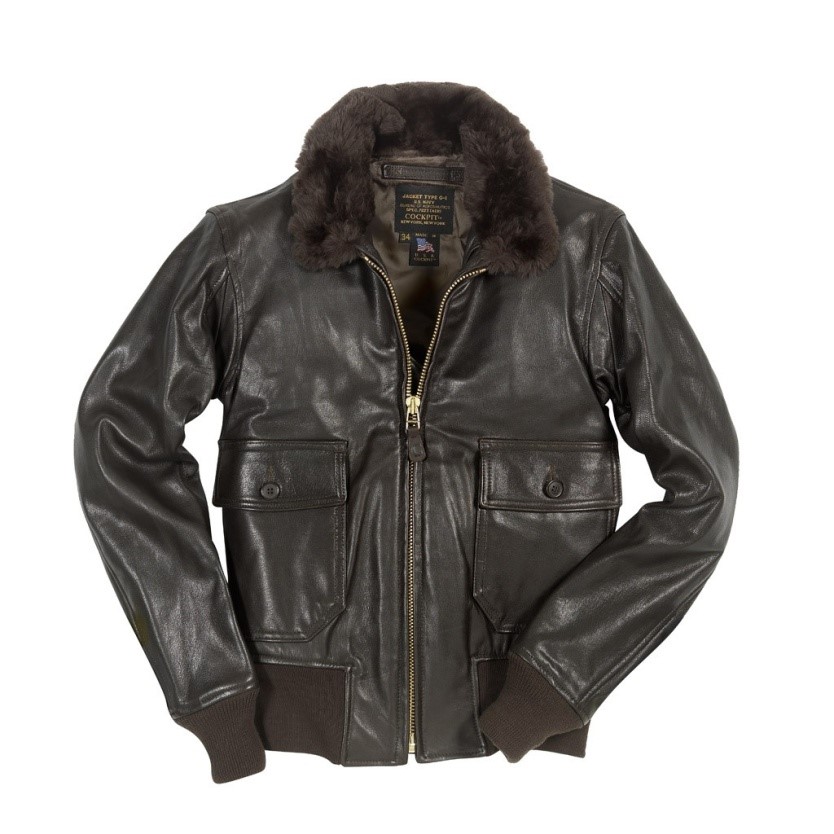 Bomber or you can say flight jackets were becoming more popular day by day with the new designs over the years in the last half of the 20th century. The model type G-1 jacket was launched in 1986. It came with a lighter and more comfortable and fashionable version than the previous jackets. The interesting matter is, this jacket was re-launched with the release of the film Top Gun.
How to Choose a Perfect Bomber or flight Jacket?
Confused while choosing the perfect bomber for you? Trying to choose the best and the most stylish one? There are a few important things which you should do before choosing a jacket which will be ideal for you.
There are huge options for bomber jackets for you. Now you have to decide if you want a bomber for any specific reason or season or such a bomber that you can wear at any time of the year regardless of the weather.
You will get different types of bomber high-quality leather jackets. Leather jackets are so soft that they will make you feel too comfortable. They will be able to keep you warm in too cold weather.
You can also choose wool as your bomber jacket men fabric in winter. They look fashionable. They will protect you from the cold for sure. You will get various attractive designs of wool bombers.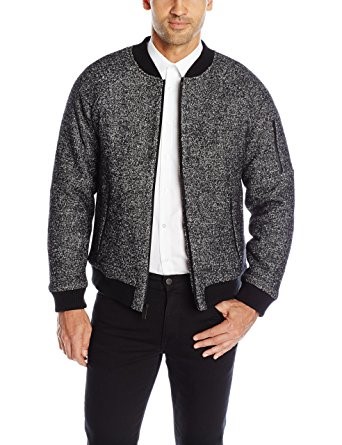 Want to wear a bomber in the spring? Then try a polyester or nylon fabric-made bomber. There are a lot of unique designs and types of such bombers for you. They are so lightweight as an outfit that you can easily wear them. They will always be a good choice for any season. Even, you will also find a nylon bomber waterproof.
You will find bombers of different colors like blue, black, green, brown, and so on. But always choose a color that will match you, your personality and the place where you're going to wear the jacket.
The most crucial point of buying a jacket is to check its fitting. An unfit jacket will make you look odd and feel uncomfortable. Suppose, you wear a highly stylish bomber but that doesn't fit you perfectly. Just imagine how awkward you'll feel that time.
Make sure that the jacket you are going to buy perfectly fits your body. If it's loose, you will look really very odd. The jacket will fit on your body when the fitting of the waist and underarm sides will be perfect.
The ribbed hem should also fit properly. Otherwise, it can't help you keep warm in the cold. If there is no stretch or extra spare inches after zipping off the jacket, that means your jacket perfectly fits you.
Well, there is no need to remind you that your sleeves must not be too tight to move your hands freely. Avoid the tight sleeves and also the extremely loose ones.
How can you forget about the shoulder? Just imagine if the jacket doesn't fit on your shoulders perfectly, how weird you're going to look. Don't take any chance to let it happen.
Choose the Best Men's Bomber Jackets: Style as You Wish
You can style a bomber or flight jacket in different ways. You can try a long tee as an inner layer with your jacket. You can pair them with joggers. A sweatshirt can also be a better companion with the bomber. A Black or grey sweatshirt will look perfect.
A combination of bomber with a formal shirt, relaxed chinos pants,s and a pair of trainers can certainly make you look stunning. You can try a pair of slim denim jeans with a bomber. A white bomber will make you look stylish whereas a black one will make you look smarter.
Final Words
Choose your bomber jackets smartly. You can buy bomber jackets from amazon. You will get high-quality leather jackets to choose from bomber jackets from amazon. Want to look smarter, more handsome, and dashing? Looking for fashionable and best winter protection? Don't be late. Hurry up and get your men's bomber jacket from amazon asap.