Look, going to the gym isn't like what it was before. Throwing your sweat-soaked gym clothes in tote bag days are now over. Today, people want a classier and fresh feel when it comes to carrying gym equipment.
The gym isn't obviously the most stench free place, and deodorants don't really do much good in this case. Why should you make your bag smell the same?
So, it's time for you to upgrade your gym bag and move on to a better option.
Not only a gym bag is more hygienic, but they are also a great option to keep all your equipment's in separate compartments. Wouldn't you love the smell of a fresh sneaker or clothes?
That's why you need to get yourself the best gym bag. But how will you decide? Check out these six awesome gym bags and choose the one you like!
Let's get started!
Best Gym Bag: Take Your Pick
1. Rigor Gear's Large Gym Bag
Don't have time to waste looking for a specific thing in your gym bag? Then you should definitely try out Rigor Gear's Large Gym Bag. With this bag, you will find a compartment for every little gym equipment.
The company made sure that the bag is designed efficiently to help you keep everything organized and clean. Every single component that went into making this gym bag is highly durable and strong.
The bag offers 11.9 Gallons of a storage unit so that you won't have to leave anything important behind. Although the storage space might seems a bit too much, still you'd be able to fit it right into your gym locker.
This bag offers two shoe compartments with particular wet and dry option. In this case, you'll get to store four different shoes based on their situation. The five external mesh pockets will let you store any sweaty equipment that needs air drying.
Also, you would get two pouches with zippers and two pouches that are Velcro secured. Storing personal items in these have never been easier. This is truly one of the best gym bags for men.
2. Mouteenoo's Gym Sports Small Duffel Bag
Want cool gym bags for her and him? Try out Mouteenoo's Gym Sports Small Duffel Bag. This gym bag offers a water-resistant feature along with a strong build that gets rid of any fear of tearing. All the zippers are made of SBS metal, and so you won't face any zipper issues.
Another significant fact about this bag is that it offers side compartment just for your shoes or any dirty equipment. The overall design is quite simple and give a classic feel. Shoulder straps are adjustable for your benefit, and pads make it comfortable to carry around.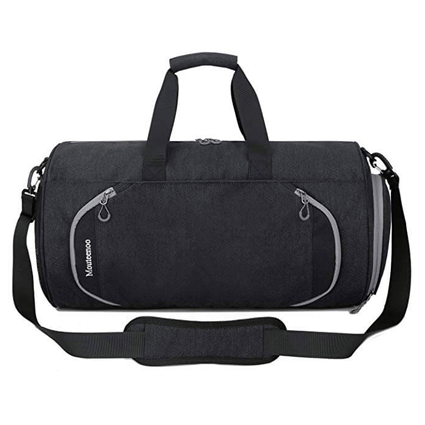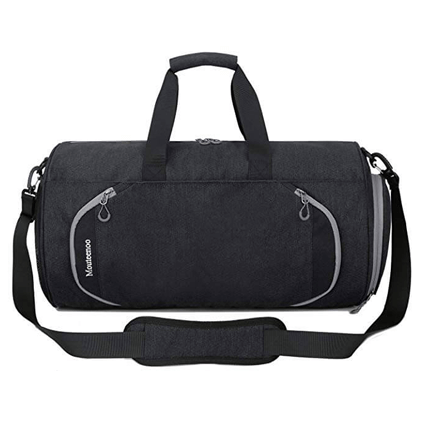 Buy Now
With two sizes, this might just be the target gym bag you are looking for. This gym bag offers one shoe compartment in the side, one mesh pocket in the rear, two outer pockets (both zipped), an inner pocket for valuable items and a core compartment.
It can be a perfect small sports bag or a gym bag. So, if you don't like bulky gym bags, then you should definitely check this one out.
3. FocusGear's Ultimate Gym Bag
Can pockets ever be too much? For those pocket lover's FocusGear brings their Ultimate Gym Bag. This gym bag was designed to satisfy all your needs. Not only the material is of high quality, but the build is also quite strong.
These bags offer a lot of compartments for storing every little gym equipment you can find. You will get two different wet pockets – one with ventilation and another for a small object. The ventilated compartment can be a perfect place to keep your sweaty pants or shoes.
But what about your valuables like money, phone or keys? Well, for those you will get a well secured interior pocket. You would get additional spaces outside the gym bag, which also includes water bottle holders. The middle compartment also has enough space to store any kind of heavy equipment. Ain't that great?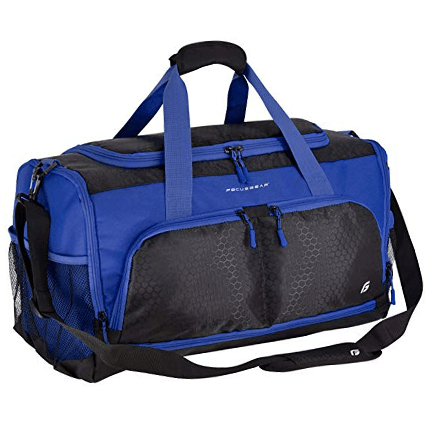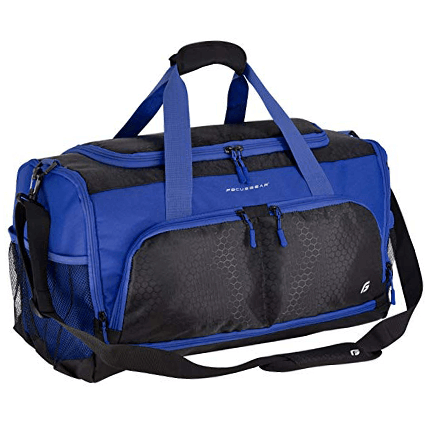 The most significant part about this company is that they constantly improve their products based on the best gym bag reviews their customers leave. So, you will always get a product that will be geared towards your comfort only.
4. MarsBro Sports Gym Duffel Bag
Are you looking for a classy and cool duffle bag for any occasion? If yes, then you should definitely look into MarsBro Sports Gym Duffle Bag. These not only look stylish but they also perform really well.
This gym bag is made with 600D Polyester (100%), which has anti-tearing properties. It's also water resistant as it has a PVC coating lining. The bag is quite spacious and will fit right into any kind of locker in the gym.
The built-in shoe compartments are the perfect way to store your dirty shoes. These pockets come with air holes that keep them ventilated and gets rid of the odor. You'll get a core compartment for towels or heavy equipment, and a front pocket for card, keys, phones, money, etc.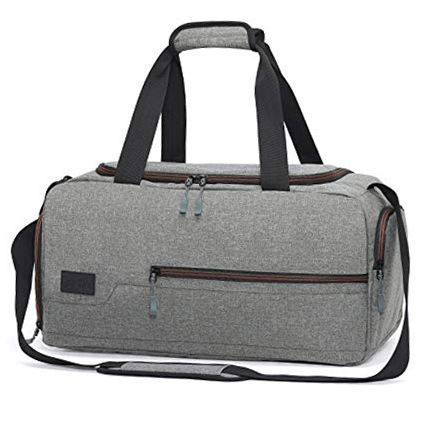 However, you can always use the internal secret compartment or the side compartment for storing these valuables too! The shoulder straps are adjustable and have a shoulder pad for better comfort.
This is truly the best gym bag for men and women.
5. Adidas Diablo Small Duffel Bag
The brand Adidas can be the one thing you need to know before buying this duffle bag. Adidas is popular for their quality products, so anything they bring will always offer premium quality.
This bag can be the best option for you if you love simple, small duffle bags without the baggage of any pockets. These duffle bags only have one compartment that can store a good quantity of items.
However, you should note that, as it doesn't have any pockets, these are best for carrying only your sweaty gym items. The interior is made of 100% polyester and with double seams to make it extra strong. It comes with a shoulder strap, and you can adjust it according to your need.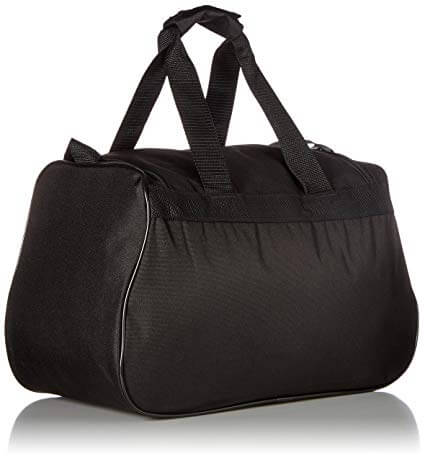 The best part about this bag is that it offers a lot of color and design choices. So, you will always be able to find one that best compliments your style. Even though it may seem small, still you would see that it does carry all the necessary stuff.
You should definitely try out this Adidas gym bag.
6. SKYLE's 3-Way Travel Duffel Bag
This bag is definitely an all-rounder. You can use it in three different ways – as a duffle gym bag, as a backpack, and as a shoulder bag. However, you will be able to hide the padded straps in a compartment to use it as a duffle or travel bag.
Also, the shoulder straps are detachable, so you can quickly turn them into a shoulder bag! The bag is made of nylon, which is water resistant and includes an anti-ripping feature.
It offers a core compartment along with two zipper pockets, one inner pocket, a shoe compartment, two front pockets and two zipper bags at both ends.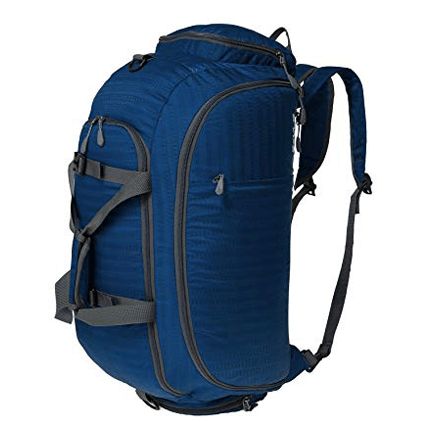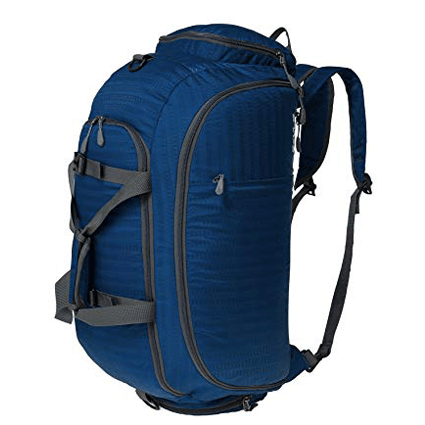 These bags are incredibly lightweight and durable. You can easily carry your electronic valuables in them without any safety issues.
These gym bags come in six different colors including Black, Blue, Cyan, Pink, Purple, and Army Green. So, you can easily choose the best one that suits you.
In the End,
Gym bags are an essential part of a workout. Nobody wants to go to the gym with a smelly and sticky one. All of these six gym bags are an impressive collection for men and women. You'll find small ones to large ones and all of comes at reasonable pricing. So, why don't pick your best gym bags for guys now?