Looking for the perfect plus-size formal dress to wear to a party? Plus-size women are always afraid to try out new designer clothes because they seem to be a bit cautious. Be proud of your curves and don't shy away!
Maintaining a perfect hourglass figure is not always possible for every woman, not even healthy. Having a curvier structure doesn't leave you only with frocks to wear everywhere. There are hundreds of styles for plus-size women but you have to find out the perfect one for your body type.
So, let's take a tour and find the best dress that shows all the right curves and reflects your uniqueness.
Be confident, follow our tips read, and take a sneak peek inside the fashion world to choose the perfect dress for you.
How to Choose the Best of the Best Plus Size Formal Dresses
Many of you don't know how to choose a plus-size party dress and end up feeling down in the process. Not anymore! Follow these simple rules when shopping for plus-size formal party dresses and look spectacular every time!
Waist Line:
The perfect way to look curvier would be to concentrate on the waistline. Any plus-size formal dress should always enhance that part. This process will create an attractive body shape.

If you feel that this is not a good option for your body type, then you can try complimenting with different accessories like scarfs or belts.

Flow Outward:
If you have an apple-shaped body type looking for the best skirt to wear, then choose the one that flows out. This design defines your waistline and enhances your hips. Again, we want to make sure you look fabulous all the way!

Highlight Assets:
You have a lot of assets to show off if you are a curvy, plus-size woman, so another option is to choose a dress that concentrates on your bustline and neck.

Scoop, sweetheart, or V-neck would be perfect for any occasion. Ladies embrace your assets! You shouldn't cover your body up with clothes that don't complement them.

Make It Age Appropriate:
We know how ladies can get carried away when they shop. Whether you are looking for plus-size formal dress or plus size special occasion dress, always make sure the design or cut is age appropriate.

You'll get many brands that will offer gorgeous dresses for women over 40. They can surely make you look stunning without looking boring!

Dark Color Schemes:
Dark colors always are best for plus-size party dresses. Also, they make you look slimmer than usual. Dark colors will create an illusion of a thinner structure. You can go for maroon, navy blue, black, etc. These are great color choices when it comes to plus-size formal dresses.

Best to Avoid Large Prints:
Playing with different prints can give you an authentic look. They come with unique features and add a different vibe to the overall style of the dress. However, larger prints are not recommended for curvier women.

The reason? Well, they have a disproportional design, which will make the dress seem more significant. On the other hand, small patterned formal dresses will break the color palette and make you look thinner! And gorgeous!
Best Plus Size Special Occasion Dresses
Take a look at these styles, they are perfect for any occasion and will make sure you look fabulous all the way.
A-Line:
These dresses are just perfect for any formal event. They will concentrate on your waistline and then gently shape your lower body part. If you are looking for the perfect plus-size formal party dress, then this is your best bet!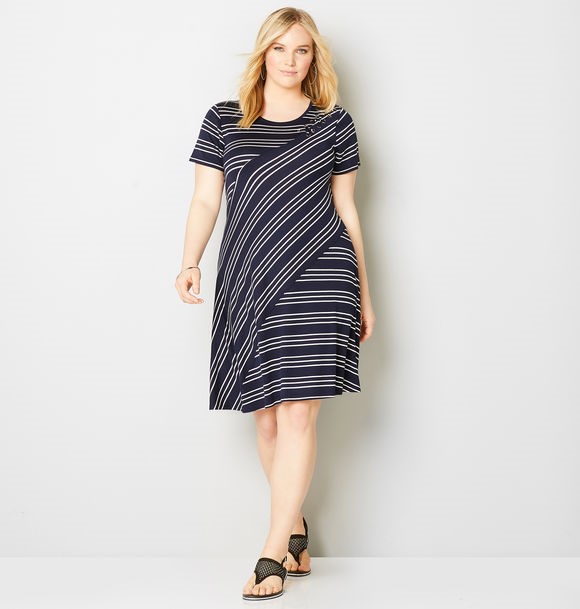 Pintuck: Pintuck is a slightly modified A-line dress. They have a flowing skirt to give a more glamorous look. Pintuck dresses are a perfect way to show off the bustline.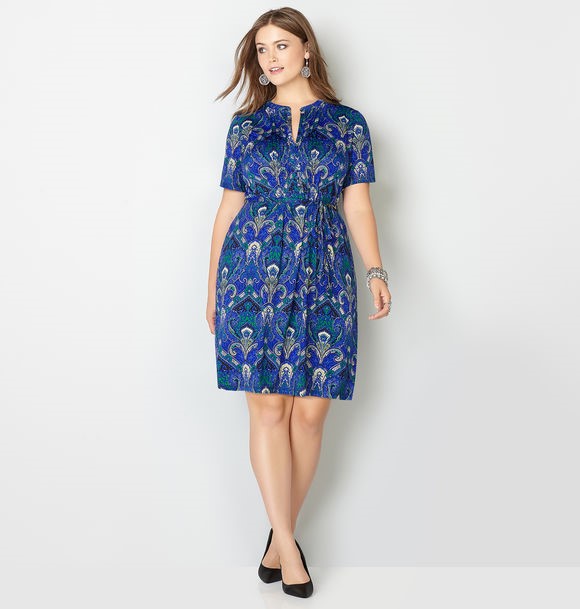 Faux Wrap:
This type of dress is really popular among plus-sized women. They will cover your body and bring out the perfect shape you want. These dresses are suited for any special occasion and can be informal as well. Such a versatile style, you should definitely add this type of dress to your wardrobe!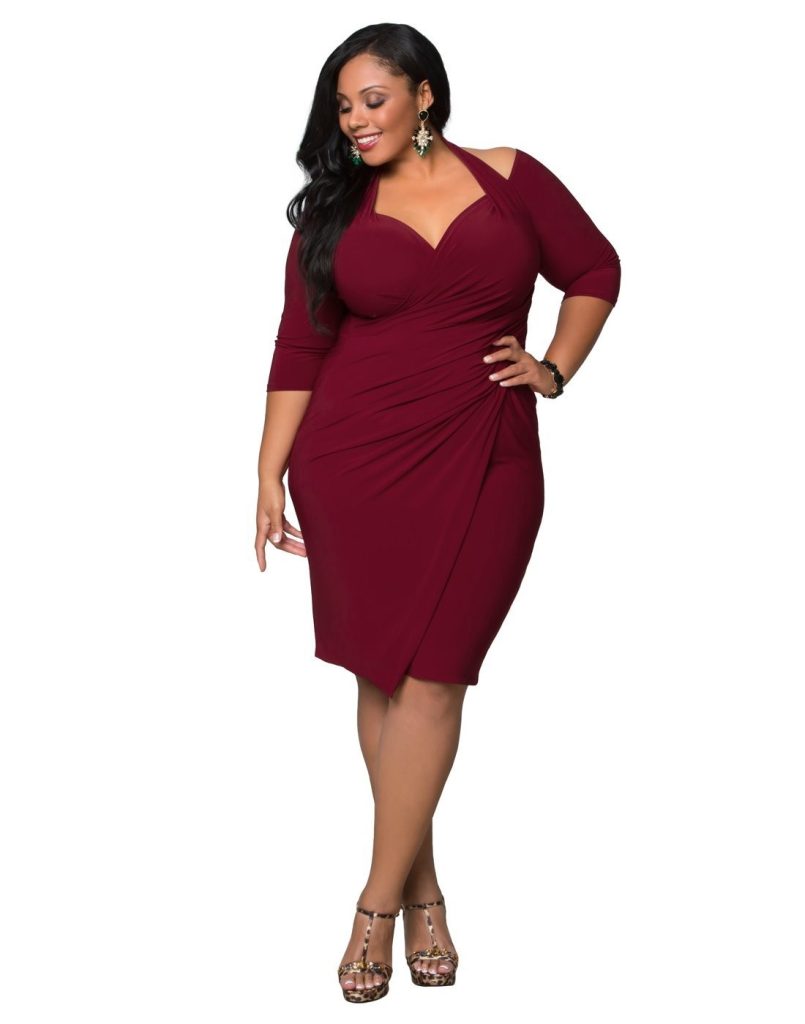 SharkBite:
Add a dashing look with SharkBite dresses. These are another popular category among plus-sized women. This type of dress creates a diagonal symmetry that will make you look slimmer and fabulous. It's a great choice for a plus-size formal dress.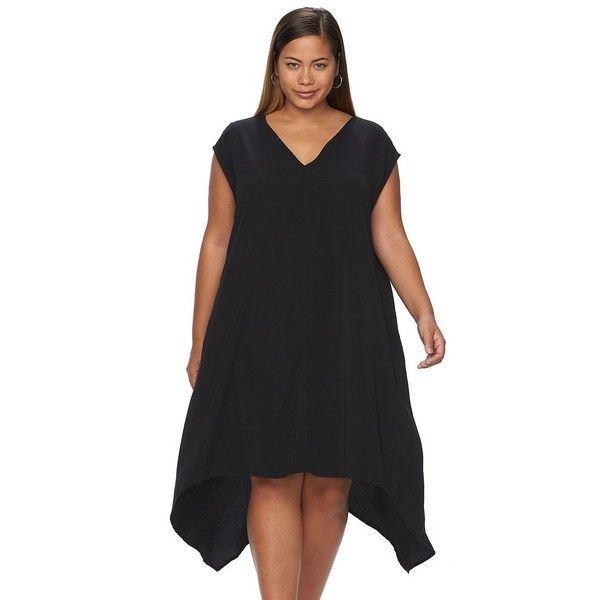 Peplum:
These plus-size dresses come with a ruffle. The ruffles make the waistline look thinner and help to shape the lower part of your body to give a curvier look. Suitable for oval or rectangular body shapes.
It's also a great plus-size formal dress that you can wear to work. Stay glamorous even in a meeting!

Empire:
The Empire waist dresses are simply amazing! It will go with triangle, rectangle, and oval-shaped body types. It mainly focuses on the upper part of your body. You can choose the length as you please. It looks good in both long and short versions.
Never go for shapeless formal dresses as they won't complement all the features you have. Dresses can be your best friend if you let them. Take your time and choose the one you love.
Maxi:
Maxi dresses are one of the most underrated categories of all time. Why? It's solely because many women make mistakes while choosing a Maxi dress.
That's why you should always make sure you chose one that goes perfectly with your body type. It's time to show off those curves ladies, and a Maxi dress can surely do that.

Choose a Maxi plus size formal party dress that has a defined waistline. This little trick shapes you up flawlessly. On the bright side, the open neckline can minimize the effect of the length and make you look taller.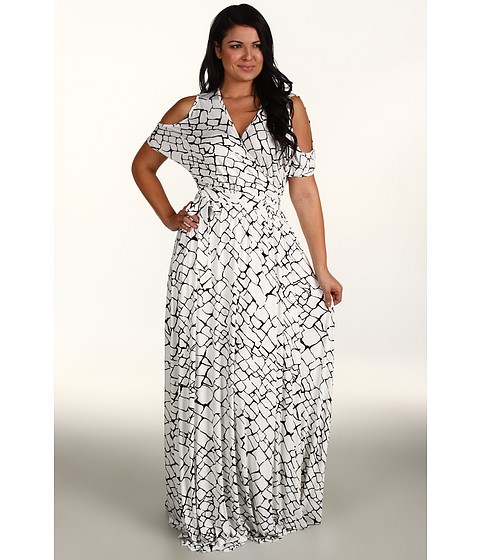 Halter Neck:
Have a toned arm? Go for the Halter Neck dresses, ladies. They are a gorgeous choice for a plus-size formal dress.
Such plus size party dress will bring attention to the right spot and make you look fabulous throughout the party.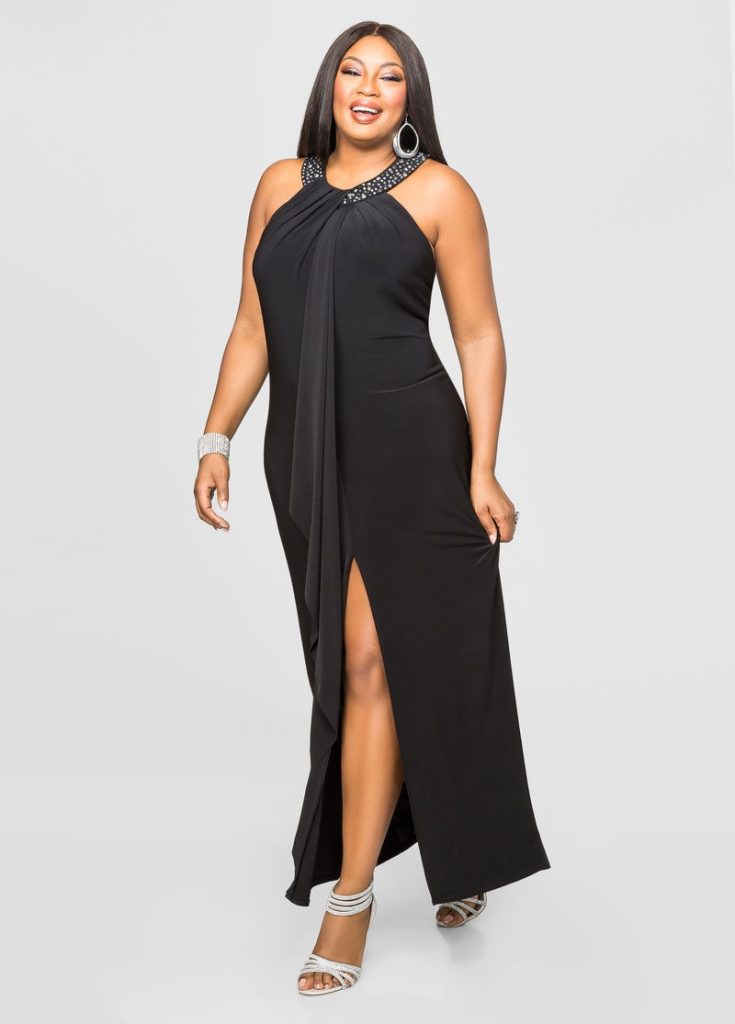 Ball Gowns:
Ball Gowns can be a newer addition to your wardrobe. They are the best plus-size formal dresses for more exclusive occasions. Any plus-sized woman with toned arms and broader hips can rock this style without a doubt.
The lower part of the dress helps to hide out the hips and thigh area, concentrating only on the upper part of the body.
Evening Gowns with Sleeves:
You can easily rock any party wearing an evening gown with sleeves. There are different lengths to try out such as full sleeves, three-fourth sleeves, or even mini sleeves. They can be a new addition to your beautiful plus-size formal party dresses.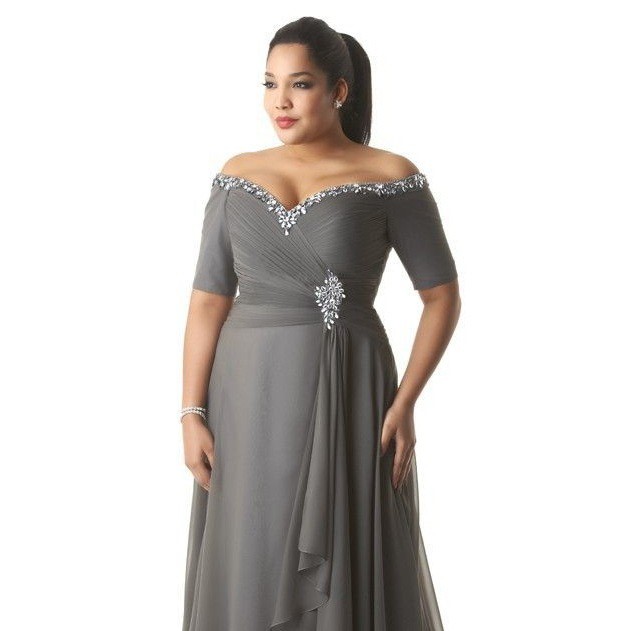 Mini Cocktail:
Have toned legs that you want to show off? Why don't you try out some Mini Cocktail dresses? They go perfectly as a plus-size party dress. These knee-length dresses come in different laced designs, which can make you look fabulous throughout the session.
All you have to do is to make sure they are spreading just below the waistline.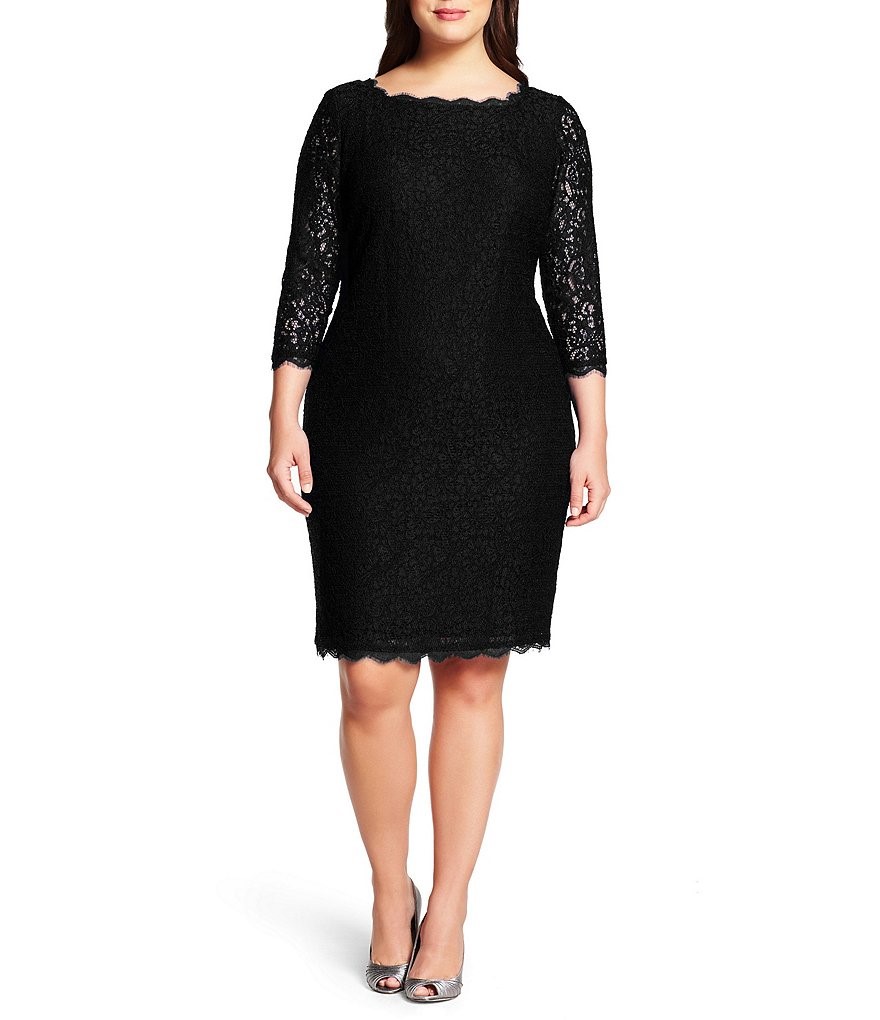 Overlay:
This beauty has already got popular among plus-size women for bringing out the perfect shape. Overlay Dresses are a modified version of Shift Dresses. Wouldn't it be a shame not to have one in the closet?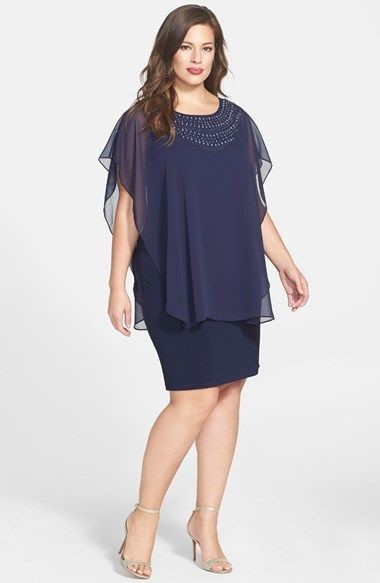 3-Pc. Pant Set:
Unique as its name, this dress is one of the most desired in the plus-size world. It creates the perfect symmetry to give a fabulously shaped look. It's definitely the best choice to catch everyone's eyes in any event.
Also, these dresses are extremely comfortable to wear and will definitely make you look glamorous.
Special Tips For Plus Size Special Occasion Dresses
Through Research: Before buying a new dress, look through the formal dress collection. Not every design is ideal for every woman. You should definitely try out some styles before buying to see which plus-size special occasion dress suits you better.
Change the Style: Don't stick to your usual style. Be creative and always wear trendy-designed plus-size party dresses. Fashion-forward dresses will not only bring out your beauty but will show your fashionable side at any party you attend.
Add Different Accessories: Don't forget to wear accessories that complement your body. This is a neat trick that can go a long way.
Seek Professional Help: Have a stylist? Why don't you consult with her/him, about what to choose? It's always better to have two opinions rather than one when it comes to a plus-size formal party dress choice.
Build the Foundation: Most importantly always have a solid foundation. Wear the right undergarments that make you look more in shape. We know finding the right tools can be difficult, but they sure can make a difference.
Our Final Thought
Buying a new plus-size formal dress can be tricky, but we're sure if you follow this guide, you'll get the dress of your dreams. Just choose the one that makes you look fashionable and fabulous and gives you the confidence to rock any party!