Washing clothes, and end up ruining it, isn't an uncommon story anymore. Why? Well, many of us don't seem to care for the instruction symbols. But, mostly because we are awfully confused about it all of the time. Care instruction symbols for clothing are very important for you to keep your dresses damage free for a long time. You should follow the instructions as the care instruction symbols indicate.
All the laundry tag symbols are to maintain your dresses and keep them like new dresses. Just give it a read, and it will remove all your confusions about the care instruction symbols for clothing and their meanings.
Care Instruction Symbols
Some of your clothes may have these labels on them. These labels with washing instruction symbols will help you wash your dress appropriately without any damage. Let's find out the meaning of each symbol.
Wash Symbol

This symbol of a bucket full of water on the washing instruction labels is the basic Wash Symbol. It will tell you about the machine settings or the temperature you have to use to wash your particular clothes.
2. Temperature Indicated Washing Symbol
On some washing instruction labels, you can find a washing symbol with dots. Their number can be from one to six. These dots indicate what the temperature should be while washing those clothes. You can also find them with a temperature value directly.
The washing symbol with one dot instructs you to wash your clothes in 30˚ C. Thus, two dots mean 40˚ C, three dots mean 50˚ C, four dots indicate to 60˚ C, five dots mean 70˚ C and six dots indicate to 95˚ C.
3. Permanent Press
When you find a symbol with a line underneath the normal washing symbol, it's for the permanent press. You shouldn't iron the clothes that have this permanent press symbol label. To maintain the original shape you need to wash such fabrics with chemicals.
4. Gentle Cycle
Sometimes you can find such washing instruction symbols on your clothes with two underlines. These gentle cycle symbols are especially for silk or wool made fabrics. Any robust washing can damage this type of clothes.
5. Hand Wash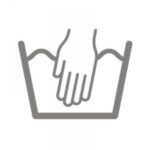 There are some clothes, which only need hand washing. You should never wash them in a machine. On such clothes, you will find a standard wash symbol with a hand at top of the bucket.
Such washing instruction symbols will tell you to wash those dresses in a bucket, small tub, or sink rubbing with your hands. You can use milder detergents for washing as they are safely made for both your clothes and hands.
6. Do Not Wash
If you see this above symbol on any clothes, you have to understand that you cannot wash them. The standard washing symbol with a cross instructs you to go for a dry cleaning instead of washing.
Bleaching Symbols on Care Instruction Symbols
On some clothes, you may find some triangle symbols. Such washing label symbols are the bleaching instructions for your clothes. Let's know what those washing instruction symbols indicate.
Bleach
A simple triangle, one of the washing label symbols on any clothes indicates that you can bleach your clothes using any kind of bleaching stuff.
2. Non-chlorine Bleach Only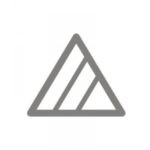 When you see a triangle filled with diagonal lines on any clothes this symbol means that you should use non-chlorine bleaches only for the particular clothes. Before bleaching your clothes make sure that you're using non-chlorine bleaching stuff.
3. Do Not Bleach
A solid triangle with a cross is another among the washing label symbols for clothing. It instructs you not to use any kind of bleach on the respective clothes. Bleaching can damage this type of fabric.

Wet cleaning Labels
There are such types of fabrics which need wet cleaning. The following laundry tag symbols are for various types of wet cleaning.
Professional wet cleaning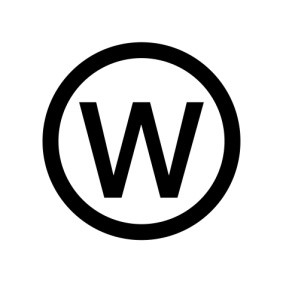 You can find some washing label symbols with a 'W' inside of a circle. These types of laundry care symbols indicate that your clothes need professional wet cleaning.
2. Gentle wet cleaning
Some of your clothes need only gentle wet cleaning. For such type of clothes, laundry tag symbols are a little different from the professional wet cleaning symbol. A line beneath the professional wet cleaning symbol makes it the gentle wet cleaning symbol.
3. Very gentle wet cleaning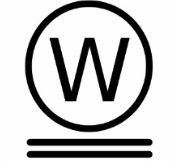 When you see two lines underneath the standard wet cleaning symbol, be sure that your particular clothes need very gentle wet cleaning.  Otherwise, your dresses can be damaged.
4. Do not wet clean

A solid black circle with a cross on washing instruction labels on your dress means that dress doesn't need any kind of wet cleaning. If you see this above symbol on your dress, never give that dress any wet cleaning.

Dry cleaning Symbols
You must have seen some washing label symbols with a P or an F surrounded by a circle. Do you know what they actually mean? Some of you may know their meaning that they refer to dry cleaning. Still, for your information, their meanings are given below. 
Normal Dry Clean

A simple circle is one of the washing instruction symbols for clothing. If your dress contains a label with this symbol, it means that your respective dress needs normal dry cleaning.
2. Dry Clean with (HCS)
A circle with an F inside it indicates that you can use only hydrocarbon solvent (HCS) for dry cleaning your clothes.
3. Gentle Dry Cleaning with HCS

One of the laundry care symbols for dry cleaning is an underlined circle with an F inside it. When you see this symbol, make sure that you are using only hydrocarbon solvents for dry cleaning your particular dresses. And the dry cleaning must be gentle also.
4. Very Gentle Dry Cleaning with HCS
This symbol is almost like the previous one. It just has two underlines instead of one. With this symbol, you need to be careful that you are using hydrocarbon solvents and the dry cleaning should be very gentle.
5. Dry Clean without Tetrachloroethylene
Some of your dresses contain such laundry tag symbols which have a P surrounded by a circle. Such symbols indicate that you can use any kind of solvent for dry cleaning your clothes except tetrachloroethylene.
6. Gentle Dry Cleaning with PCE
An underlined circle with a P in it is also a dry cleaning symbol. But it instructs you to use PCE for a gentle dry cleaning.
7. Very Gentle Dry Cleaning with PCE

With two underlines the above symbol is for very gentle dry cleaning. In this case, you also need to dry clean your clothes with PCE.
8. Do Not Dry Clean
The simple circle with a cross indicates not to dry clean your clothes. Otherwise, dry cleaning can damage its fabrics.


Drying Symbols
Drying is the most important task of washing your clothes. If you don't dry your clothes properly it may be damaged sooner or later. You will find different types of drying symbol for different types of fabrics.
Natural Drying
Here are some symbols for those clothes which require natural drying.
Drying symbol
The above symbol is the basic drying symbol. And the following one is the basic symbol for drying clothes in shade.

2. Line Dry

The above-given symbol is one of the laundry care symbols. If you see this on your clothes, it means that you should dry your clothes naturally by hanging outside on a clothesline.
This given symbol tells you to dry your clothes by hanging them in shade.
3. Dry flat

The knitted items of your garments will get stretched out if you hang them for drying. The dry flat symbol is for such fabrics. You need to dry them normally by placing them on any flat clean surface.
You should dry particular clothes by placing them on a flat surface in a shade when your clothes contain this symbol.
4. Drip dry
If your clothes contain this above symbol, dry them outside by hanging with hangers. And the following symbol is for drip drying in the shade.
Tumble drying
Not all of your dresses are capable of natural drying. Some of them need tumble drying.
Tumble Drying
With a circle in the middle of it, a square is the basic tumble drying symbol.
2. Tumble Drying (low temperature)
When you see one dot inside the basic tumble drying symbol, be sure that you're drying the clothes at low temperature. 
3. Tumble Drying (high temp)
 With the increasing number of the dots inside the tumble drying laundry tag symbols you can increase the temperature for drying your clothes.
4. Do Not Tumble Dry

The above sign means you should not use tumble drying.

Ironing care symbols
You may like wearing an ironed dress. Then you should know that different types of dress require different temperature for ironing. You must follow the washing label symbols for ironing your dress without any damage.
Iron
The basic iron symbol is very simple and easily recognizable. It's an old-fashioned iron shaped symbol.
2. Iron on Low
When iron symbol contains only one dot, it means you have to be very careful that you're ironing with a low temperature.
3. Iron on Medium
With the two dots inside the main iron symbol, it tells you that the temperature of the iron should be medium.
4. Iron on High

Three dots on the standard iron symbol indicate that you can iron your dress at high temperature.
5. Do not iron
Such laundry care symbols restrict you from ironing your dress.
Final Words
Don't be careless about the washing label symbols anymore if you really love your dress. Don't be confused. Read all the instructions thoroughly from the tag on your dress and follow them carefully.