You have probably forgotten all about winter outfits from last year. It is no wonder that men don't exactly look into men's fashion. Except, wearing the same coat, jumper, or scarfs would make you look rather dull.
If you want to enhance your wardrobe and your look, then you should definitely look into our collections of winter wear for men's.
It's time to move into the ultimate comfort zone. Now that winter is here you'll probably want to be dressed in a fashionable way. This is why we created this guide to make sure you keep being charming, even in the winter season.
Read on!
Men's Casual Winter Fashion: A Guide to Help You Dress Casually
There's a lot of casual dressing options when it comes to men. If you don't have a good idea about them, take a look at our pointers below:
To rock a casual look, you have to always go for the basics. There's no fashion in winter without the essential pieces. It's about changing them to see how they go with each other.

Want to make a statement? Well, statement pieces are here to help you out. These are best to stand out from the crown in any situation.

If you want to have a business casual look, it doesn't mean you have to only focus on tailoring. You can mix up other things too!

Shirts are overly used for casual wear. You can try out printed shorts, polo shirts, a granddad collar, and even an oxford shirt.

You need to mix up the street look with a creative fashion sense in a men's winter style guide. Also, you shouldn't overdo it in any way!
What're the best four fabrics to look into during the winter season?
The most important factor for any fabric is the comfort they bring to the table. Want to know which materials are best for casual wear? Take a quick at them below:

Cotton:

Cotton is the most comfortable fabric among all. You can use any cotton-based clothes as the base layer or middle layer during winter. Well, they aren't the best winter wear for men. Cotton won't provide you with the warmth you'll need in winter, but they are an excellent choice when you're in a warmer room. To wear it casually you can use a cardigan or knitted sweater as the top layer.
This style will make you look stunning, keeping you warm at the same time!

Denim:
Denim is the best choice when it comes to casual wear. Anything made of denim fabric will automatically give you a cool look. Using it as the top or middle layer would be the best choice for you.
You can also use denim pants to add a more casual look. Men's casual winter fashion revolves around denim products throughout each season. But if you want to stick to a men's winter style guide, you should only use one denim layer, such as a single jacket or shirt. Layering with more than one denim shirt won't be ideal in this case. That's why we recommend you to keep it light and fashionable!

Leather:
Men, we know how you love leather outfits. Leather outfits will surely make you look charming in any situation. If you haven't tried out any leather products yet, now's your time to shine!
Try on these, as the top layer to complete the ultimate look of mens winter style guide. Also, if you're a classic lover, then go for leather jackets.
Leather jackets are one of the best casual wear for men's fashion. Similarly, leather overcoats can be an excellent choice too! Want to feel like a rockstar? Try out leather pants!

Wool:
Wool is one of the most comfortable fabrics in men's fashion. You can use this one for both the top and middle layers. According to the winter men's style guide, you should always go for a thinner layer for the middle and a thicker layer for the top layer.
It's a comfy and fashionable outfit for any casual occasion. The trick to this fashion is to wear at least two types of woolen outfits, and as the base layer, you can use cotton shirts.
Men's Casual Winter Fashion: Try Out These Different Styles!
1. Explore Different Outer layers
Have a down jacket? How about a tailored overcoat? Let's mix them up to create a more exciting look. Wear your down jacket over your suit. Pick a roomier down jacket, so that you feel comfortable wearing it over the suit.

You can also try out duffle coats or fur-collared parka instead of a down jacket. They look extremely good with anything underneath them.
As for your overcoat, wear it over a t-shirt. Use faded jeans or black jeans to complement the look. This is an extraordinary winter wear for mens in winter. All these interchanging or layering up will make you look manlier than ever!
2. Twist-Up the Middle Layer
Break all the boundaries of today's fashion. Instead of wearing the same old style forever try out something new.
Make it more casual with a crewneck sweater on top of your shirt. You can also try out sweatshirts or knitted jumpers.
You can add more twist to your winter wardrobe with amazon waistcoats. You can switch your regular middle layer and wear a denim shirt or jacket on top of the waistcoat.
It's a fusion of the street style and formal wear.
3. Vest Jackets and Cargo Pants
Create your very own style with vest jackets as the top layer. Make sure to wear a loose sweater as the middle layer and use cargo pants to complete the casual look. You can also switch up the cargo pants with denim to make a bold statement.
If you don't own one, you should definitely get your hands on them. You can try out amazon cargo pants for a better quality experience and comfort.
4. Cardigans and Denim
Cardigans are best to rock a casual look. Just simply embrace this style with a collared shirt as the base layer and cardigans as the top layer.
Denim pants would go perfectly with this stunning look. Make it even more fashionable with accessories like watches, beanies or even boots!
5. Black Chino with High Neck Jackets
What's not to love about black chino pants? These pants go with almost every style guide for men's during winter. But do you know that high neck jackets can make you look even more handsome?
Just pair it up with a chino pant from amazon and go out looking charming as ever!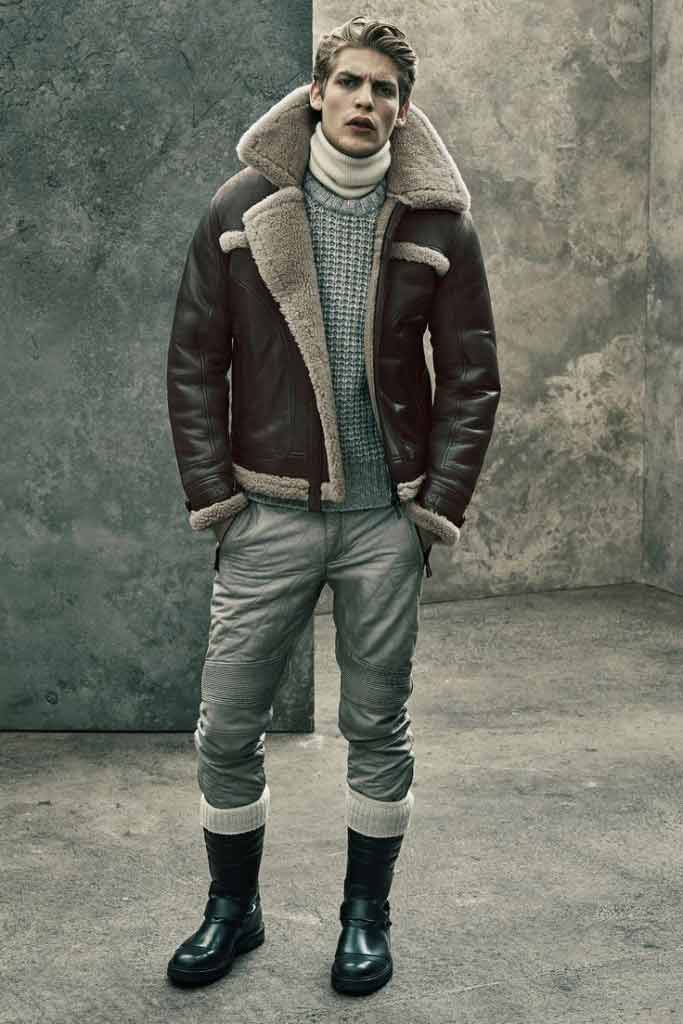 6. Keep It Simple with a Jacket and T-shirt
Don't like layering up? Don't worry; we got the perfect look for you. Just wear a bomber jacket with a white t-shirt. What's not to love about this casual style, right?
Bomber jackets are an awesome choice when it comes to men's fashion. They are one of the most popular winter wear for men.
7. Go for a Sophisticated Look
We know how you love a sophisticated look. If you already have a blazer in your collection, just try it on with a polo shirt. These will keep you warm, and you'll look hotter than ever. Switch up the taste with a t-shirt instead of a polo shirt.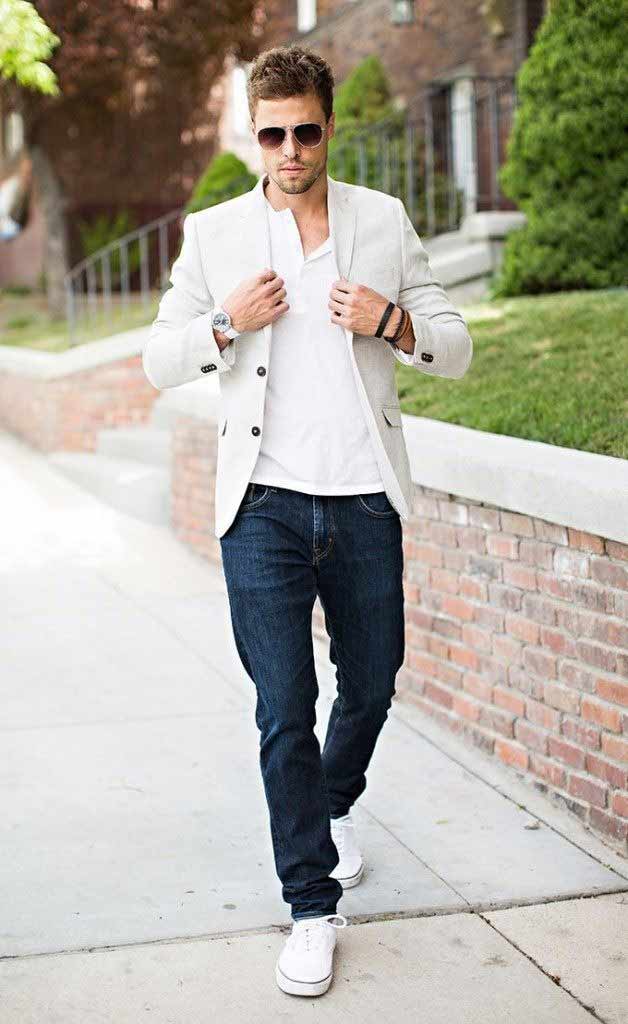 8. Denim Jackets
Denim jackets are one of those trends that are never old. You can wear a denim jacket in any season. But they are best for winter as they'll definitely keep you warm throughout the whole season.
Wear a denim jacket to get the bar look and stay fashionable.
9. Flannel Shirts
As a street style, the checkered pattern never loses its touch. You can always look casual if you include these awesome flannel shirts as in your daily casual wear. Use a t-shirt as the base layer and wear a flannel shirt over it.
Unbutton the shirt all the way down and let is loose. It's a great way to show of the t-shirt and be in style every day.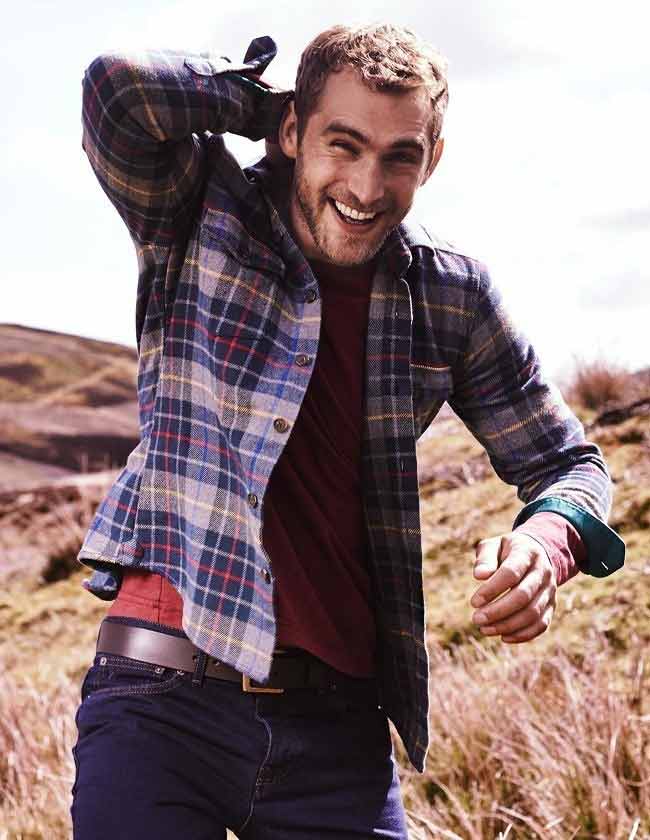 10. Creating Your Style
The most important fact about every men's winter style guide is to follow your gut. Experiment with the looks, see how the layers click together. There's no shame in adding a little creativity to our daily lifestyle.
Most importantly remember to keep it on the warmer side. Even though a combination might look right, it should be able to keep you warm throughout the day, not the other way around!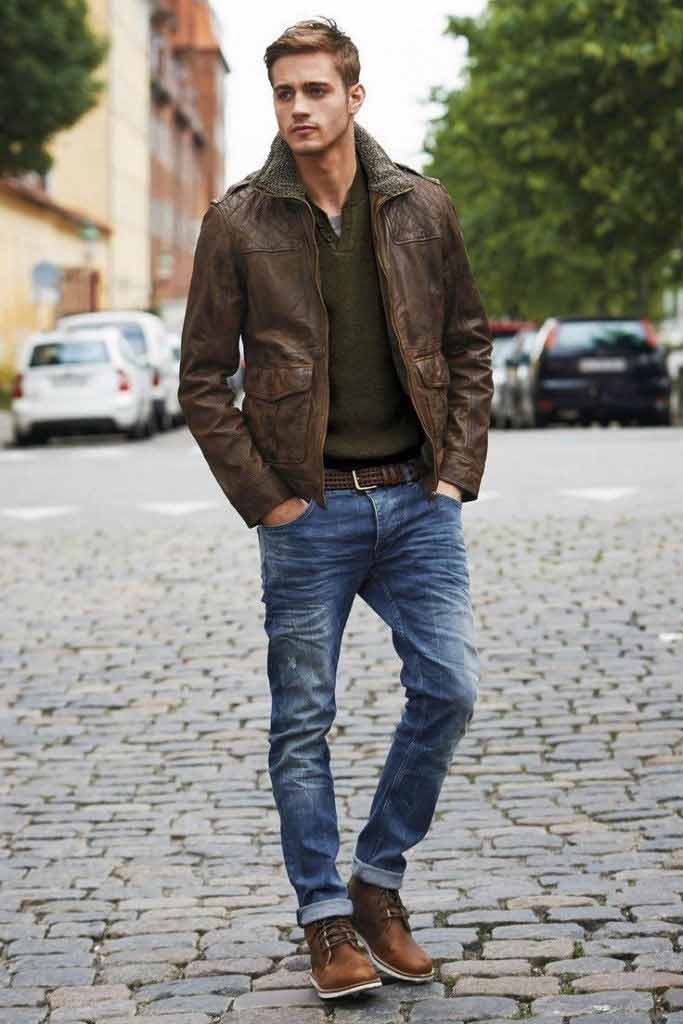 Note: There's no casual fashion without boots, right? Using the right boots would complete all of the above styles for men's fashion. You should definitely go for other accessories like belts, beanies, scarves, or watches that would achieve your winter fashion.
Final Words,
Men, don't fall behind from the latest fashion trends. If you don't know how to create your style, our guide will definitely help you out with these.

Winter is the season to stay comfy, but still, look stunning and handsome with all those layers. Just try out these awesome new styles and rock every party. Why would you be left behind, right?