Summer is the time to show off your fashion sense. We know how you love to dress up in summer, but you still want to be comfortable in your shoes.
Well, the sad part about summertime is that you can't wear any clothes without sweating or breaking out a rash. The trick is to minimalize the outcomes and still look fashionable all the way.
But most women out there don't know what dresses would be best for them. If you are one of them, then you've come to the right place.
We'll cover this guide solely for helping you choose the best summer clothes for women.
How to Choose Summer Clothes for Women
Cotton is your new best friend ladies. They are perfect for any summer clothing and helps to maintain the temperature of your body. No matter how we try, we all get more or less sweaty.
But this fabric absorbs the excess sweat and then evaporates it. You could think of it as a towel. So, not only will the cotton make you feel comfortable throughout the day, but it'll also prevent any bacterial attack. That's why you should go for cotton when you're shopping for summer clothes.
Other fabrics are also great, but when you'll be under the scorching heat throughout the day, make sure to choose cotton instead.
Whenever you are going for summer dresses, avoid any darker shade. Light colors will help you reflect the heat rays and make sure you stay cool throughout the day. Darker shades such as, black, dark brown, navy, etc. tend to absorb the heat rays, which makes you feel hotter as the time goes by.
That's why you should stick to colors like white, beige, baby pink, yellow, sky blue, etc.
Ladies, we all know how tight dresses can show off all your assets. However, wearing tight dresses can result in discomfort during the summer season. That why you need to wear loose dresses that add comfort to your daily life.
Loose summer dresses for women helps to keep your body fresh by helping it circulate properly.
What Are the Best Cute Summer Clothes?
If you don't look into the right styles for summer clothes, you end up with heat rashes or worse. Many of us forget to apply sunscreen before going out, leaving the skin vulnerable to the sun. This is the reason; you should look into cool summer dresses that protect you, rather than scorching.
Take a look at these elegant styles that will make you look fabulous throughout the day.
T-Shirt Dress
This is the most straightforward style of all. You can add them to your wardrobe anytime as summer clothes. T-Shirt dresses are comfortable and as well as fashionable as hell. These dresses are also a great choice for traveling in summer.

2. Convertible
Convertibles are beautiful dresses that you can try out during the summertime. These look extraordinarily fabulous, and you can wear them on any fancy occasion. Also, these dresses can be worn in different ways, giving you a newer look each time.

However, going for short convertibles would be the best idea.
3. Shift
Shift dresses are best known as casual dresses. They can provide the necessary comfort you need during the hot weather. One of the best parts about them is that you can also wear them to parties providing the accessories or shoes.
Be relaxed with these chic styled summer dresses for women.
4. Maxi
Maxi dresses are always comfortable in the summertime. It's mainly flawless for beach time too! Not only they keep you cool, but you'll also be full of style.
The flowy skirts or sleeves can be a great touch to these dresses. But, remember to avoid too dark colors when it comes to this style.
5. Shirtdress
These dresses are to die for. In crisp summer weather, these cute summer dresses will keep you dry throughout the day. The style is exceptionally flattering, but it's more suited for tall women.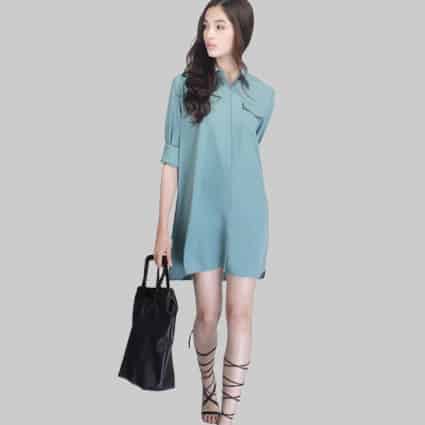 Although, short women can also rock this style. Just buy one with a higher hemline, and you're set!
6. Two Piece
These dresses are same as convertibles. Usually, they have two pieces, which can be used in various ways. Just mix it up and look cute for any occasion. A great fashion item to pair with a romper or other dresses.
They even look good with skinny jeans.
7. Romper
Rompers will give you a breezy vibe whenever you wear one. It's one of the simplest summer styles for women. Just put one on, and you'll get the perfect cute summer dress you wanted.
Some rompers come with laced designs on shoulders to add a different touch to the style. If you are going on a vacation, then these babies will surely rock your whole trip flawlessly.
8. Tunic
Want cute summer clothes? Try out Tunic dresses now! These are an excellent addition to your festive dresses or even for a beach town. Some of them come with tassels or even bell sleeves. You would look just adorable with this style during summer time!
9. LBD
LBD's can be used as a regular party wear. They look outstanding in every environment. However, they are best suited for traveling. Being a formal or casual dress, these are extremely popular in summer.
10. Exposed Shoulder
The recent trend of summer dresses for women are spiraling around 'Exposed Shoulder' dresses. The style is mostly feminine and gives you a flattering look altogether. Who doesn't love to show off their shoulder, right?
With so many options in the market, this one will surely give you a polished look.
11. Slip Dress
These are mainly popular as undergarments or night time dress only. Any curvy woman can rock this style effortlessly during the summertime. As a trendy cute summer clothe, this could be your ultimate dream dress to wear in nightclubs or bars.
You could add up extra accessories such as jackets or scarfs.
12. Drop Waist
Another great one on the list. They are similar to peplum dresses. The dress gives out an added shirt like formation, which makes it look fashionable and fun. Usually, these dresses don't have any shape and rather has a straight cut.
This could be one of your favorite cute summer clothes.
13. Little White Dress
Women look great in chic black dresses, but what can you do in the summertime? Wearing black dresses would end up being all sweaty. That's why you can try out little white dresses. These dresses look exactly like chic black ones, but only they are white.
Surely these are one of the classic summer styles for anyone. Again, the details or embroidery makes it look glamorous.
14. Eyelet
Eyelet dresses, moreover, embroidered ones are another perfect classic summer dresses for women. Basically, they have solid colors that bring out the formal look. If you like sticking to neutral colors then, you should definitely try this one out.
These are also perfect for cute summer clothes. Use staple sandals along with Eyelet to complete the look.
15. Lace-Up
Usually, the theme for any summer dress is the shorter length. Lace-up dresses aren't any different. They look like t-shirts but have a lace-up front design that makes it look elegant. Apparently, they are comfortable to wear and a great addition to your cute summer clothes collection.
Great Designs for Summer Dresses.
Every style looks great in neutral colors or pastel colors. But this doesn't necessarily mean that all you have to do is wear boring colors in summer. Experiment with your look and what colors suits you and keeps you cool at the same you.
Well, it's summer. No point in keeping your brightest dresses locked up in your wardrobe. Bring them out and wear them like a boss.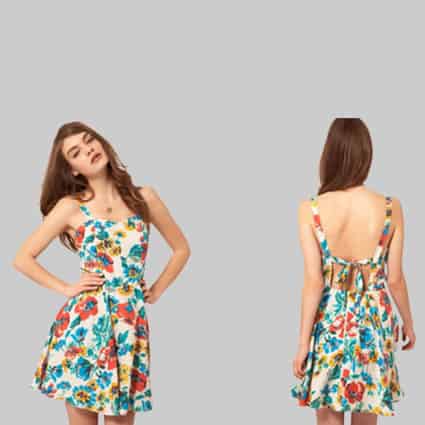 Floral patterns can look great in many summer style clothes. They come in different styles and shapes, giving you an authentic look each time. You can choose floral shirts and pants to keep it extra casual.
Other than floral, bold patterns such as abstract or tribal, will be just perfect for a summertime dress. These patterns will help you look classy and also, they'll highly appropriate for offices.
Mix up different patterns of clothes in the summertime. This is the time to show off those fashion senses ladies. So, experiment to your heart's content and comes with a beautiful fashion fusion.
When it's 65 degrees outside, the AC won't be able to save you from feeling hot. That's why always go for a light layer design. This will keep you cool even in the scorching heat.
Maybe you have to dress a bit more conservatively during office hours. However, you can still create a summertime taste. Just choose a sleeveless shirt or cropped pants.
Going for the right clothes in the summertime can be a hard choice. The real problem is to maintain a fashionable look in any situation. But, we are sure these choices will definitely liven up your summer days!