Have we ever wondered how badly we're damaging our body by sitting at that ergonomically flawed office chair for long hours? But can we help it? Our work-life demands us sitting in front of that computer for a large chunk of daily life.
Before things get out of your hands, you need to fix your posture, strengthen up your core muscles, and improve the overall flexibility of your body. 
And, Pilates is perhaps the best workout option that you can incorporate into your daily life. While it's true that you can get started with the Pilates workouts with just a yoga mat, you don't get the fullest benefit from it.
A good way to solve this issue is to have an experienced trainer by your side, perhaps in a Pilates studio. But as the dangers of the COVID-19 pandemic looms over, it's better to continue your Pilates workouts at home.
But you need to have a good Pilates reformer machine for home so that you can take part in the exercise regime properly.
Now the question is — "How to choose a Pilates reformer for home? And, what are traits of a best Pilates reformer machine for home?"
Don't worry, this article takes a deep dive today finding the right answers to all of these questions regarding the Pilates reformer for home.
What Is a Pilates Reformer and Why Do You Need One?
We all are familiar with the great workout routine that we love and care about, Pilates. This workout routine mainly focuses on three S's — strength, stamina, and stability.
But what is a "Pilates reformer?"
Pilates reformer is a specialized tool developed by the inventor of Pilates, Joseph Pilates. This apparatus consists of a sliding platform based upon a carriage device and a resistance system that is completely adjustable by using springs, pulleys, and straps.
The biggest advantage of having a Pilates reformer is that it offers better control and support for your body. This advantage makes all the difference for the newcomers and recovering injured people.
Do you need a Pilates reformer machine for home gym?
It depends! Are you confident enough that you can do 40 reps of bicycle without any support?
For those who don't have any idea about what bicycle is, it's a simple (!) Pilates exercise. During the bicycle, your legs are in the air at a 90° angle while constantly rotating your torso and stretching the alternating legs at a sharp 45° angle.
This seems like a piece of cake for the veterans out there. But for a newcomer, performing this exercise (properly) is quite the challenge.
If you fall into the latter category, you should get a Pilates reformer machine for home.
How to Choose a Pilates Reformer for Home? The Ultimate Buying Guide
Let's get one thing straight, the Pilates reformers aren't cheap, far from it. Even the most basic reformer costs about $1,000. Some of the better options cost more than $5,000 — sometimes touching the $10,000 price point!
You'd obviously want to invest your hard-earned money in a dependable option, wouldn't you?
So, make sure to be thorough regarding the following buying considerations —
Will the Pilates Reformer Fit in Your Room?
This is perhaps the most overlooked parameter of all, yet could be the main deciding factor. The Pilates reformers come in all shapes and sizes.
Some can be of 7-feet in height while some low-profile reformers are only of 10-inches in height!
Now, we all don't have gigantic state of the art gyms in our homes, do we?
So, take out that measuring tape and measure out the suitable dimension. Also, don't cram up the exercise space. There should be some free space surrounding the Pilates reformer.
For example, if the Pilates reformer of your choice has a dimension of 8-feet by 2-feet, your exercise space should at least have a dimension of 10-feet by 5-feet. Also, don't forget to pay attention to the height of the device.
At the same time, you should consider your physical dimensions too. Working out in a 7-feet long reformer could be a challenge for a 6.5-feet tall person. In fact, it could do more harm than good!
Can It Support Your Body Weight?
Every Pilates reformer has a maximum training load or weight capacity. Clearly, you'd want to buy a reformer that can support your body weight. Otherwise, you'll have to say an untimely goodbye to your workout device, or even worse, end up falling victim to a bad accident.
A good Pilates reformer should come with a weight capacity of a minimum of 250 pounds. However, you should aim at buying one with 300 pounds weight capacity or more.
Also, make sure to sync your body weight and the maximum weight capacity of the Pilates reform for home gym.
What Are the Special Features of the Reformer?
All modern Pilates reformers come with a number of special features and attachments. For example, pulleys, straps, and foot bar are a few of the common attachments. Then, some advanced reformers have Cadillacs (metals towers with handles), jump boards, roll-down bars, push-through bars, rebounder, or a vertical spring.
These attachments help you with some specialized workout routines.
Of course, the reformers with a higher number of attachments will cost more. So, how should you choose one that agrees with your pocket?
Simple!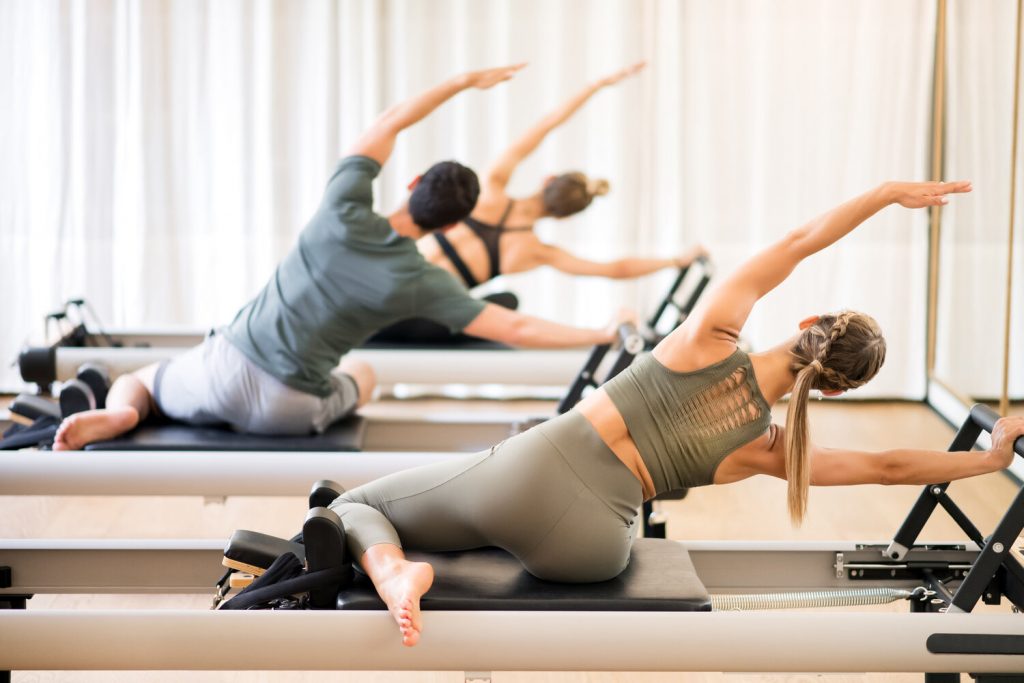 Be very thorough about your desired workout regime and try to identify the attachments that would come in handy. Then, narrow down the list of the reformers according to your preference.
 There is no point go buying an expensive Pilates reformer machine for home that you won't utilize 100%. This tactic will help you find the better option within your budget limit.
What Is It Made Of? Construction Material Ensures Durability
Different manufacturers use different construction materials and this decision creates all the difference for the durability and sturdiness of the reformer machine.
The original reformer device developed by Joseph Pilates had a wooden base. But that was back in the 1930s.
Don't we have better construction material now?
Of course, we do!
Modern Pilates reformer machines use stainless steel or aluminum for sturdier construction. Make sure to check the joints otherwise it'll create an annoying clanking sound!
Spring vs Cords/Straps
The Pilates reformers either have spring or cords to offer the necessary tension. Interestingly, the two materials provide a different feel!
Springs, in general, offer lighter resistance in comparison with the cords. However, most of the studio reformers have spring in it and if you're used to those pieces of equipment, you should probably stick with the springs.
Additional Tips: Brand Value Matters!
There are some well-known brands that specialize in making Pilates reformers. You should stick with these brands as they have earned their name by offering the highest quality products to the customers.
You might find cheaper, non-branded options but those reformers might last offer the comfort, precision, or durability.
So, try to limit your choices within the circle of well-known brands only. It will be a better investment that will serve you a long, long time.