Have you heard of balance bikes? Balance bikes are bikes for small kids but with a slight difference. These bikes actually don't come with any pedals or cranks. So, you end up balancing with your feet instead.
Seems a bit weird, right? You might think, what's the use if they don't have any pedals? But balance bikes aren't for older kids. These bikes are made just for toddlers and with the help of this unique bike they can quickly adapt to the mechanism.
That's why this best kids balance bike guide is for you parents who want to help their kids learn to ride a bicycle from an early age.

Let's get started!
Why Start with Balance Bikes?
Balance bikes come with a rather simplistic design. These bikes are here to help your child learn balance and steering before they get on a regular bicycle for kids. As these don't have any pedal or any other complicated form of steering, your kids will find it quite easy to master.
Mainly this bike gets rid of the fear that kids have before riding a normal cycle. Toddlers won't be afraid to ride this one because they will practically be able to rest their feet on the ground really easily. As you'll see their progression, you can alter this bike for a traditional bike, and it should be fine for them.
Best Kids Balance Bike: The Fun Way to Ride


1. Strider – 12 Sport Balance Bike (For ages 18 mo. to 5 yr.)
Let's start with one of the popular balance bikes for toddlers. Strider thrives to provide all the features any parent or kid would ever want in one package. You can will get padded saddle, customs grips, quick release clamp, handlebar pad, and many more other options.
It's the perfect harmony of options, performance, and value. Children of 18 months can enjoy all the fun with their diapers on too! The essential factor about this bike is that the bike will grow as your child grows. Meaning you will be able to adjust the settings as your child outgrows it.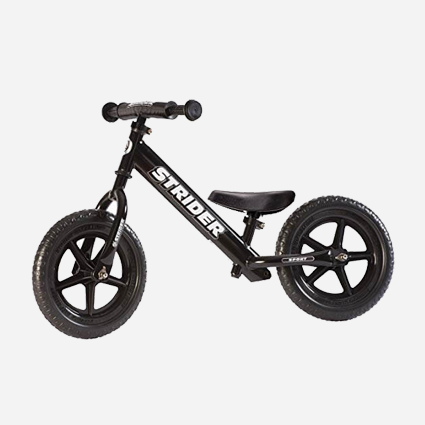 The padded seat will provide extra comfort for your kid, and you can adjust it for child's up to 5 years old. Not only the seat but the handle can also adjust according to your child requirement. You won't have to use any tools for that.
As for the weight, it's only 6.7 lbs. in total. So, it will be much easy for your kid to ride it without losing control. Strider knows how kids can be with their accessories. Every part of the bike is made of highly durable steel frame, which will last for years.
So, no need to worry about your kids breaking or damaging the bike in any way.


2. Retrospec Cub Kids Balance Bike (For ages 20 mo. to 5 yr.)
Retrospec has been around for some time now. The company is most popular for making cycle gadgets, and now they have a unique model for your kids as well. According to them if your kid can walk, he/she can definitely ride a bike.
Your kid won't just learn to ride it, he/she will also enjoy it greatly, making this bike one of the best kids balance bike.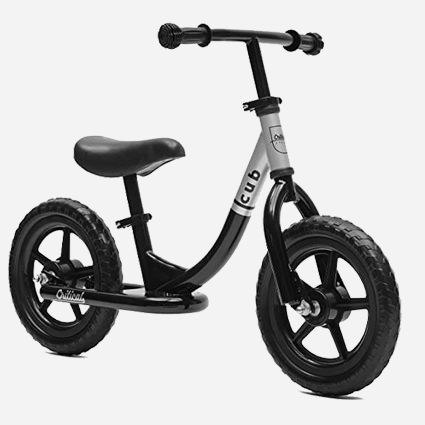 Their Critical Cycles Cub balance bike model comes with an extremely lightweight frame and allows your kid to easily get on and off. The best part is that they offer air-free tires, which means you won't have to deal with any kind of maintenance at all!
If your kid is between 20 months to 5 years, you can easily trust this bike. Everything is customizable, so you can change the seat or handle as your kid grows up. This is truly one of the best children's balance bikes you'll find in the market nowadays.


3. Strider – 12 Classic Balance Bike (For ages 18 mo. to 3 yr.)
This is another one of the wonderful addition of Strider group. Strider takes pride in their ten years of development, where they tested every bike to make it perfection. They are mostly specialized for balance bikes and improves their design every year. So, when you are buying a Strider bike, you know you are getting the best deal in the market.
The Strider 12 classic is a wonderful model equipped with high configurations and safety features just for your kid. With the no-flat tire, your kid can take on every ground without worrying about damaging the tires. Everyone knows how kids can be; they like to experiment with everything. So, why not pick something that can never hurt your kids in any way?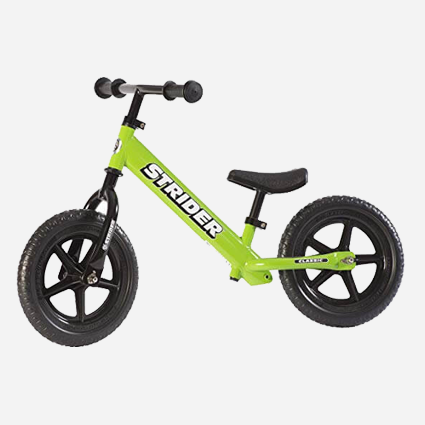 Obviously, as like other balance bikes, this one will grow with your kid. You can customize the handles, seat and make sure your kid has the utmost comfort while riding. This one weighs at 6.7 lbs. So, you know its super light for your kid.
There's a built-in footrest that can help your kid easily glide. The padded seat will provide extra comfort for your kid, and you can adjust it for child's up to 3 years old. This classic balance bike strider can ensure the utmost quality regarding value.
4.Radio Flyer Glide N Go Balance Bike (For ages 2.5-5 yr.)
Are you looking for balance bikes designed for your two years old? Well, your search end here. With Radio Flyer's Glide N Go, your 2-year-old kid will ride the streets for sure. Radio Flyer is well known for making warm memories along with laughter for families for more than a 100 years!
Yes, they have been around since, 1917, being fully committed to providing quality over anything else. Their legacy continues with their new balance bike specially designed for kids within 2.5-5 years age.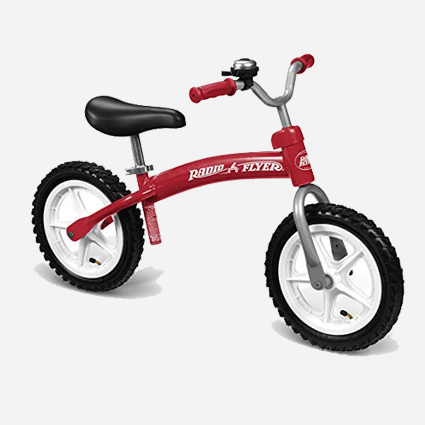 A better grip is always best for riding on any surface. And for that, they provide 12″ air tires that make your kids ride way smoother than before. Because of the big tires, your kids get more balance and learns quickly to handle it.
The cushioned seats are adjustable, and you will be able to customize them as your kid will grow. Unlike other companies, this one comes with a ringing bell, so your kid will be the full-on experience of biking.
It's extremely lightweight but also quite sturdy so that the bike will go on years. Your kid can ride this bike on any surface without worrying about damaging it. It can truly be one of the best balance bike for two years old.
5. Banana Bike LT – Lightweight Balance Bike (For ages 18 mo. to 4 yr.)
The name might seem like an odd one, but they sure offer quality. BananaBike is always ready to get all parents attention when they are looking for a world-class balancing bike. The design looks spectacular, and the saddle is the lowest to guide your kid when balancing.
This bike works best for kids from 18 months to 4-year-olds, who don't have any experience of riding a bike. The rich color scheme can be the perfect birthday present for them and a stepping stone toward traditional biking.
They offer three different colors to choose from – Green, Blue, and Pink. The best deal with BananaBike is that they always upgrade their bikes every year. So, in this year, you'll get upgraded handlebars, seats, a better headset, and stronger build. Banana Bike LT has the best balance bike reviews on the market and parents love them!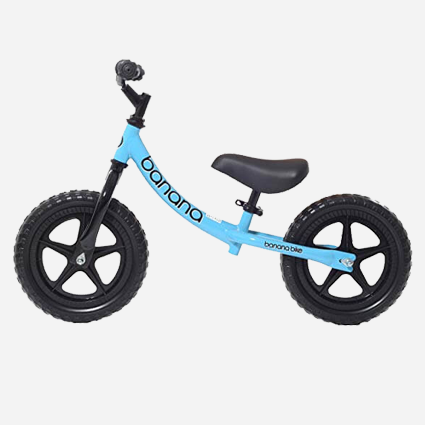 Thanks to their extremely lightweight design, it's really easy to carry. With the EVA tires, your kid can glide over any kind of surface without puncturing the tire. You won't have to worry about inflating them anytime soon! So, with all new cool features, Banana Bike definitely falls in the best kids balance bike category.
6. TheCroco Premium & Ultra-Light Balance Bike (For ages 18 mo. to 5 yr.)
Want the best balance bike for the toddler? When don't you try out the Croco Premium & Ultra-Light Balance Bike? As a balance bike, Croco comes with unique features. You will be able to adjust the height if the seat according to your kid's size. Not all 2-year-olds have the same height, and it gets difficult to find the right height balance bike for them. That's why Croco introduced the height adjustment.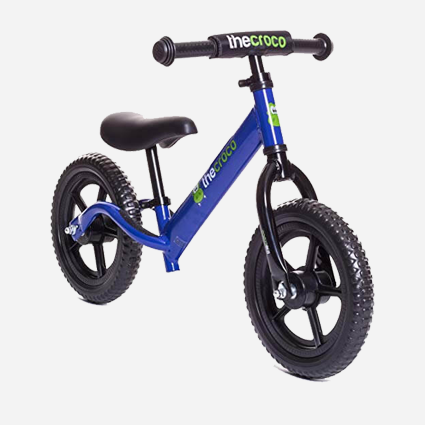 You will also get traditional adjustment options such as handlebar adjustment, seat adjustment, seat cushions and many more. It also comes with wide tires and brake system. With the hand brakes, your kid can stop at any minute if he can't control the speed of the cycle for any moment.
You'll get two different color choices for this one – Pink and Blue.
In The End
Balance bikes can help your child learn cycling faster than training wheels. With training wheel, kids don't actually learn to balance and trust the cycle fully. So, it makes it more difficult to ride when you take away the training wheels.
When your kid can balance the cycle using this wonderful new technique, riding pedal cycles wouldn't be that hard. All the balance bikes in this guide are here to help your kids out. So, pick what best suits your child and start training.